MUST HAVE for Vyshyvanka Day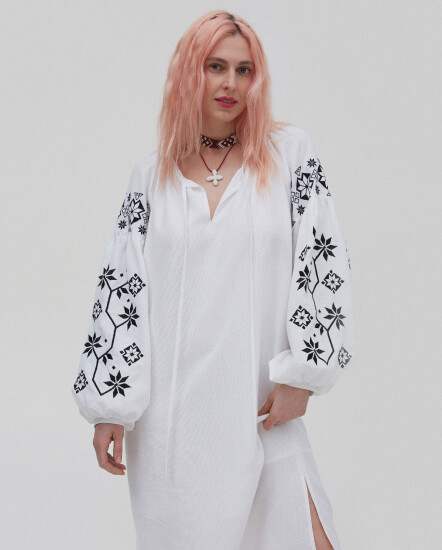 For Vyshyvanka Day, MUST HAVE created a video project "Embroidered Senses" with influential Ukrainian women of today.
Ukrainian clothing brand MUST HAVE continues to popularize cultural heritage and reveal the emotional component of having an embroidered shirt. 6 heroines told MUST HAVE their own stories of embroidered shirts, the value and meaning of ethnic clothing. The project was attended by Olga Rudneva, director of the Superhumans Center prosthetics and rehabilitation center for war victims, Natali Chulovska, PR and Mentor of Ukrainian brands, singer ROXOLANA, journalist and author of the "Energy" project Yana Metolkina, co-founders of the MustHave brand Anna Bets and Anastasia Dzyuba.
As part of the project, the participants answered 3 main questions: what is an embroidered shirt for you, what is the story of your embroidered shirt, when and how do you wear clothes.
"For me, embroidery is something very familiar, warm and safe, but at the same time a symbol of protest. Wearing it, it's as if you become a part of something bigger, - Natali Chulovska shared, - This embroidered dress is 7 years old. She is my first, which I chose consciously. I knew that I wanted to buy it in Ivano-Frankivsk, in my father's homeland. It is hand-embroidered in red and lace. Today, I have many other embroidered shirts and dresses in my wardrobe, but I will keep this one as the first one.
"Until recently, I had many things with Ukrainian symbols, but no embroidery. It seems to me that this thing should come at the moment when you are ready for it. I didn't want to buy it without a certain history," Yana Metyolkina outlined.
"Vysyvanka, as a part of Ukrainian culture, is developing and acquiring historical meanings," Anna Betz emphasized, "We are living through historically important times. The embroidered shirts created right now will transmit to future generations the reflection, emotions and hopes of the people during the war period."
"My study of the Ukrainian language began with vyshyvanka. I took the embroidery for a photo shoot, wrote a post about it and said that I don't speak Ukrainian. I was offered language courses. Accordingly, I began to learn the language, and when I already spoke Ukrainian, a friend gave me this old embroidered shirt. As a mark of recognition that I can not only wear Ukrainian clothes, but can also behave like a Ukrainian woman," said Olga Rudneva.
"I have several embroidered dresses and shirts in my wardrobe. They are all completely different, - said ROXOLANA, - There is my mother's embroidered shirt, which she wore in her youth in Soviet times and gave to me. I take great care of this embroidered shirt, I wear it only on holidays. Others, more modern, I mix in everyday with jeans, sweatpants, skirts."
"Vyshyvanka appeared in my life a long time ago, because I have been engaged in folk dances since I was 5 years old. I didn't like those shirts. She perceived them as a stage outfit: something artificial, giving off a sharovarschyna. The first serious request for an embroidered shirt came during a matchmaking. We held it according to all Ukrainian traditions, but even then I did not find my perfect embroidery. Apparently, this became an internal incentive to create my own line in MUST HAVE," shared Anastasia Dzyuba.
During the week, the brand will publish the stories of the heroines on its own Instagram page @musthaveua.
You may also be interested in
Actually