TOP-5 trendy hats of the LuckyLOOK collection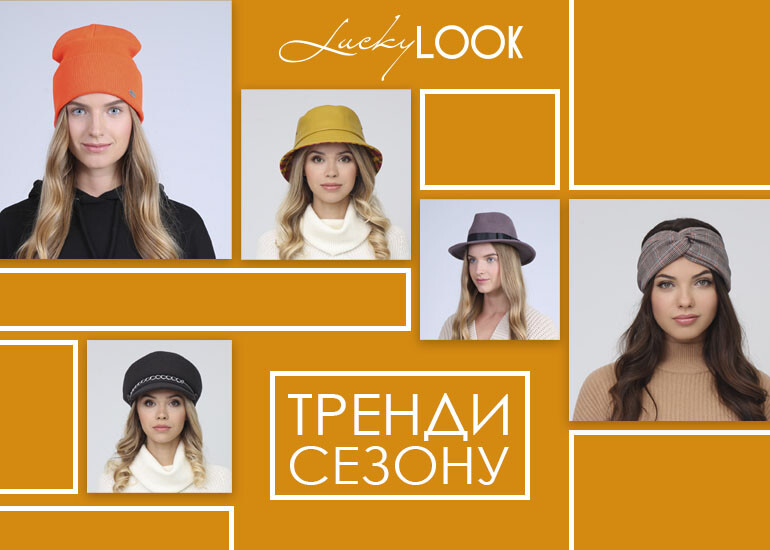 Panama
An integral part of the wardrobe of everyone who follows fashion trends. The accessory is relevant to combine with casual style, sport and sport-chic. Panama LuckyLOOK is made in trendy colors of the autumn season, and materials: cotton, tweed, corduroy and eco-leather.
Hat
An image element that completes the style and makes it more stylish. LuckyLOOK felt hats are made in four cool colors: powder, burgundy, purple and black. Canoe or fedora will be not only a great accent, but also a favorite accessory in the autumn-winter season.
Cap
If you want to add style to the autumn bow and diversify your usual image - definitely choose a cap. Some LuckyLOOK models are decorated with a leopard print or accessories.
Headband
It is tenderness and comfort. You will not only be able to look more feminine, but also feel warm and cozy.
Beanie hat
Unequivocal trend among hats 2020/21. The best composition for a warm autumn accessory and laconic design are beanies from LuckyLOOK, which are also unisex models.
You can choose a trendy hat in stores, on the website or on our Instagram page @luckylook_ukraine.
In all LuckyLOOK stores there is a SPECIAL OFFER -20% ON A CHECK OF TWO UNITS from October 1 to October 31, 2020!
You may also be interested in
Actually